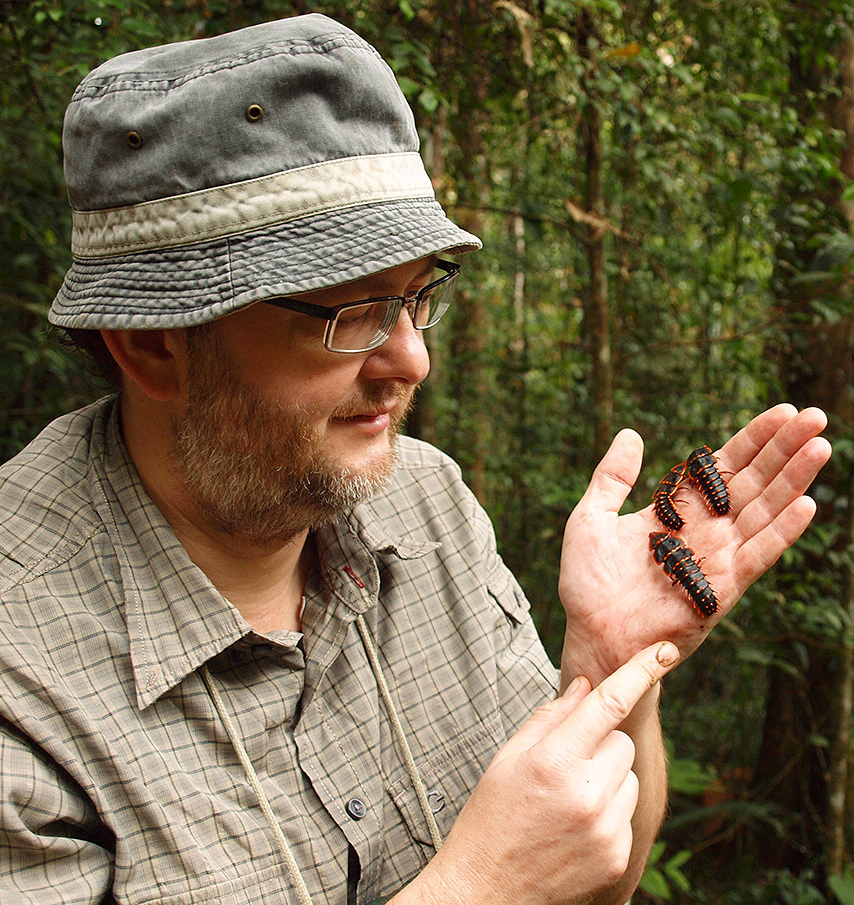 Research interests:
Phylogeny, taxonomy and biology of earwigs (Dermaptera)
Distribution, ecological requirements and endangerment of Orthoptera and Dermaptera in Czech Republic
Acoustic and vibrational communication in Orthoptera
Food biology of Orthoptera
Teaching:
Animal physiology
Biosystematics of insects
Animal ecophysiology
Biology of endangered plants and animals
Tropical ecosystems and ecological concepts
Bioindication
Determination course – invertebrates
Hobbies:
sipping of coffee, traveling through SE Asia, collecting of artifacts depicting earwigs, thinking about nonsenses, macrophotography of insects (if there is nothing to drink and to thinking about :-).
Books:
Kočárek P., Holuša J., Vlk R. & Marhoul P. 2013: Rovnokřídlí (Insecta:Orthoptera) České republiky. Academia, Praha, 288 pp.

Publications:
2021
2020
2019
2018
2017
2016
2015
2014
Bilinski, S. M.,

Kocarek, P

., Jankowska, W., Kisiel, E., & Tworzydlo, W. (2014). Ovaries and phylogeny of dermapterans once more: Ovarian characters support paraphyly of Spongiphoridae.

Zoologischer Anzeiger – A Journal of Comparative Zoology

, 253(4), 321-326.
[Bibtex]

@Article{bilinski2014,
  Title                    = {Ovaries and phylogeny of dermapterans once more: Ovarian characters support paraphyly of Spongiphoridae},
  Author                   = {Bilinski, Szczepan M and Kocarek, Petr and Jankowska, Wladyslawa and Kisiel, Elzbieta and Tworzydlo, Waclaw},
  Journal                  = {Zoologischer Anzeiger - A Journal of Comparative Zoology},
  Year                     = {2014},
  Number                   = {4},
  Pages                    = {321--326},
  Volume                   = {253},

  Doi                      = {doi:10.1016/j.jcz.2013.12.003},
  File                     = {:pdf/bilinski2014.pdf:PDF},
  Publisher                = {Elsevier},
  Url                      = {doi:10.1016/j.jcz.2013.12.003}
}

Kočárek, P

. (2014). Earwigs (Dermaptera) of Socotra Island: checklist, distribution, and description of a new genus and four new species.

Acta Entomologica Musei Nationalis Pragae

, 54, 1-21.
[Bibtex]

@Article{kocarek2014,
  Title                    = {Earwigs (Dermaptera) of Socotra Island: checklist, distribution, and description of a new genus and four new species},
  Author                   = {Petr Kočárek},
  Journal                  = {Acta Entomologica Musei Nationalis Pragae},
  Year                     = {2014},
  Pages                    = {1--21},
  Volume                   = {54},

  File                     = {:pdf/kocarek2014.pdf:PDF},
  Url                      = {http://biotaxa.org/AEMNP/article/view/9491}
}

Kuřavová, K., Hajduková, L., &

Kočárek, P

. (2014). Age-related mandible abrasion in the groundhopper Tetrix tenuicornis (Tetrigidae, Orthoptera).

Arthropod structure & development

, 43(3), 187-192.
[Bibtex]

@Article{kuravova2014,
  Title                    = {Age-related mandible abrasion in the groundhopper Tetrix tenuicornis (Tetrigidae, Orthoptera)},
  Author                   = {Kateřina Kuřavová and Lenka Hajduková and Petr Kočárek},
  Journal                  = {Arthropod structure \& development},
  Year                     = {2014},
  Number                   = {3},
  Pages                    = {187--192},
  Volume                   = {43},

  Doi                      = {doi:10.1016/j.asd.2014.02.002},
  File                     = {:pdf/kuravova2014.pdf:PDF},
  Publisher                = {Elsevier},
  Url                      = {http://dx.doi.org/10.1016/j.asd.2014.02.002}
}
2013
2012
2011
2010
2009
2008
2007
2006
2005
2004
Kočárek, P

. (2004). Chelidura farkacisp. n.(Dermaptera: Forficulidae) from China.

Klapalekiana

, 40, 139-142.
[Bibtex]

@Article{kocarek2004,
  Title                    = {Chelidura farkacisp. n.(Dermaptera: Forficulidae) from China},
  Author                   = {Petr Kočárek},
  Journal                  = {Klapalekiana},
  Year                     = {2004},
  Pages                    = {139--142},
  Volume                   = {40},

  File                     = {:pdf/kocarek2004.pdf:PDF}
}
2003
Kočárek, P

. (2003). Doplňky k fauně orthopteriodního hhmyz (Orthoptera & Dermaptera) Chráněné krakraji oblasti Poodří (Česká republika).

Práce a Stud. Muz. Beskyd (Přír. Vědy)

, 13, 215-216.
[Bibtex]

@Article{kocarek2003,
  Title                    = {Doplňky k fauně orthopteriodního hhmyz (Orthoptera \& Dermaptera) Chráněné krakraji oblasti Poodří (Česká republika)},
  Author                   = {Petr Kočárek},
  Journal                  = {Práce a Stud. Muz. Beskyd (Přír. Vědy)},
  Year                     = {2003},
  Pages                    = {215--216},
  Volume                   = {13},

  File                     = {:pdf/kocarek2003.pdf:PDF}
}
2002
Holusa, J., &

Kočárek, P

. (2002). Významný bioindikační druh mokřadních luk: saranče Stethophyma grossum.

Ochrana přírody

, 57, 240-241.
[Bibtex]

@Article_popular{holusa2002,
  author  = {Holusa, J. and Kočárek, P},
  title   = {Významný bioindikační druh mokřadních luk: saranče Stethophyma grossum},
  journal = {Ochrana přírody},
  year    = {2002},
  pages   = {240--241},
  volume  = {57},
}

Kočárek, P

. (2002). Jak kobylky "pustošily" Poodří.

Poodří

, 5(2), 44-46.
[Bibtex]

@Article_popular{kocarek2002,
  author  = {Petr Kočárek},
  title   = {Jak kobylky "pustošily" Poodří},
  journal = {Poodří},
  year    = {2002},
  file    = {:pdf/kocarek2002.pdf:PDF},
  number  = {2},
  pages   = {44--46},
  volume  = {5},
}

Kočárek, P

. (2002).

Za hmyzem pooderských luk

. Ostrava: . Společnost přátel Poodří.
[Bibtex]

@Book{kocarek2002a,
  title     = {Za hmyzem pooderských luk},
  publisher = {Společnost přátel Poodří},
  year      = {2002},
  author    = {Kočárek, P},
  address   = {Ostrava},
  note      = {14},
}
2001
Kočárek, P

. (2001). Saranče tlustá – hmyzí klenot pooderských luk.

Poodří

, 4(1), 44.
[Bibtex]

@Article_popular{kocarek2001b,
  author  = {Kočárek, P},
  title   = {Saranče tlustá – hmyzí klenot pooderských luk},
  journal = {Poodří},
  year    = {2001},
  number  = {1},
  pages   = {44},
  volume  = {4},
}

Kočárek, P

., Ghahari, H., & Ostovan, H. (2001). Description of pre-imaginal stages of Apterygida media (Dermaptera: Forficulidae), with a key to nymphs of Central European Dermaptera species.

Entomological Problems

, 32(1), 93-97.
[Bibtex]

@Article{kocarek2001,
  Title                    = {Description of pre-imaginal stages of Apterygida media (Dermaptera: Forficulidae), with a key to nymphs of Central European Dermaptera species},
  Author                   = {Petr Kočárek and Hassan Ghahari and Hadi Ostovan},
  Journal                  = {Entomological Problems},
  Year                     = {2001},
  Number                   = {1},
  Pages                    = {93--97},
  Volume                   = {32},

  File                     = {:pdf/kocarek2001.pdf:PDF}
}

Kočárek, P

., & Roháčová, M. (2001). Mrchožroutovití brouci (Coleoptera: Silphidae) v ekosystému horského lesa (Moravskoslezské Beskydy, Česká republika).

Práce a Stud. Muz. Beskyd

, 11, 67-74.
[Bibtex]

@Article{kocarek2001a,
  Title                    = {Mrchožroutovití brouci (Coleoptera: Silphidae) v ekosystému horského lesa (Moravskoslezské Beskydy, Česká republika)},
  Author                   = {Petr Kočárek and Magdaléna Roháčová},
  Journal                  = {Práce a Stud. Muz. Beskyd},
  Year                     = {2001},
  Pages                    = {67--74},
  Volume                   = {11},

  File                     = {:pdf/kocarek2001a.pdf:PDF}
}
2000
1999
1998
1997
1996
Kočárek, P

. (1996). Příspěvek k rozšíření Silpha tyrolensis Laicharting, 1781 (Coleoptera, Silphidae) v Jeseníkách (Česká republika).

Čas. Slez. Muz. Opava (A)

, 45, 51-54.
[Bibtex]

@Article_nonprg{kocarek1996,
  author  = {Petr Kočárek},
  title   = {Příspěvek k rozšíření Silpha tyrolensis Laicharting, 1781 (Coleoptera, Silphidae) v Jeseníkách (Česká republika)},
  year    = {1996},
  journal = {Čas. Slez. Muz. Opava (A)},
  volume  = {45},
  pages   = {51--54},
  file    = {:pdf/kocarek1996.pdf:PDF},
}